VALOMILK pancakes
Tom from Georgia sent in this recipe for "otherworldly good" VALOMILK pancakes. Our grandson Sebastian loves chocolate chip pancakes and he gave this recipe a hearty two thumb's up!
2 Cups Bisquick or Pioneer mix
2 Tablespoons vegetable oil
1 egg
1½ Cups milk (depending on how thick you like your batter)
1 package (2 VALOMILK cups)
Mix all these ingredients well in an electric blender. Then break up by hand and add 1 package (2 VALOMILK cups). Stir this all together (chunks of our chocolate are OK) and cook as usual. This makes 8 plate size pancakes. Enjoy!
Fun with VALOMILK Recipes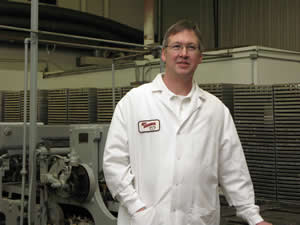 When I asked our then ten year old daughter Sarah what was unique about VALOMILKS, she responded: "Well, Dad, they're messy, but that makes them fun." I feel that candy should be fun, so here are some fun ways to enjoy our VALOMILKS. The first one is our VALOMILK Ice Cream. Julianne and I developed the recipe over many summers. Our children would help with the mixing of ingredients and hand cranking of the ice cream freezer. After they all grew up and moved out, I received an electric ice cream freezer for Father's Day. Now our too-young- to- crank grandchildren like to help make it, especially the part where you break up the VALOMILK Cups with your hands! It sure is messy but fun!!
This is our family recipe that we used to win the Grand Champion Award at the 1989 Turkey Creek Festival. I hope you have fun.
PS if you have a VALOMILK recipe to share on our web site, please send it to us (Contact Us) and if we use it, we will send you a factory fresh box of 24 VALOMILKS and credit your name on our web site.
VALOMILK Ice Cream
1 Can sweetened condensed milk (14 oz.)
1 Quart half and half
1 Pint heavy whipping cream
4 fresh eggs
1 Tablespoon pure Bourbon vanilla
1/8 Teaspoon salt
1 Package ice cream mix (Salada brand 4 oz. works well)
Milk as needed
6 Packages of VALOMILKS (12 cups) or more to taste
In a large mixing bowl, beat 4 eggs and salt until frothy. Add sweetened condensed milk, half & half, whipping cream and ice cream mix. Beat at high speed 1 to 2 minutes to blend. Add vanilla and blend in.
Pour contents into the freezing can. Break up the VALOMILKS by hand and add to contents (this requires an extra person to peel the paper cups off and stir in because the VALOMILK musher's hands will be rather messy). Add enough milk to fill to within 4 inches of the top of the can (this allows room for expansion in freezing). Crank for 1 to 2 minutes to mix the VALOMILKS in, then add ice and salt to the tub for freezing. Crank (adding ice and salt) until frozen hard (about 20 minutes).
VALOMILK S'mores
An old time campfire favorite is taking a roasted marshmallow, putting it on a piece of chocolate and sandwiching in between two graham crackers. Here are two variations without a campfire. They are fun and I hope you will enjoy them.
Heat a conventional oven to 300 degrees; place a graham cracker on a cookie sheet. Next take a VALOMILK Candy Cup out of the paper cup, place it upside down on the graham cracker and poke a small hole in it with your finger. Carefully heat for about 3 minutes, remove from oven and put the top graham cracker on and enjoy.
For a microwave, put the graham cracker on a microwave safe plate. Take a VALOMILK Candy Cup out of the paper cup, place it upside down on the graham cracker and poke a small hole in it with your finger. Heat for about 10-15 seconds (watching the marshmallow volcano) and carefully put the top graham cracker on. Please remember that a microwave can produce hot food in only seconds, so you might want to wait a bit for your first bite.
When heating VALOMILKS always use caution. Parental attention is strongly advised. And please do not do what our son-in-law did once, placing a VALOMILK in the microwave unattended! It took Chuck quite some time to clean that mess up. Be careful and enjoy!